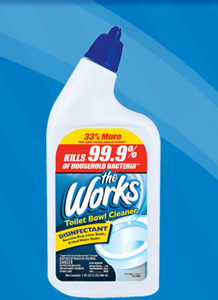 KIK Consumer The Works® Toilet Bowl Cleaner
The Works Toilet Bowl Cleaner kills 99.9% of household bacteria** while removing rust, lime and hard-water build up.
The Works Toilet Bowl Cleaner cleans what you can see as well as what you can't. It cleans and disinfects killing germs such as Salmonella and E-coli. The Works Toilet Bowl Cleaner is safe on plumbing and septic tanks. It is also available in a thick formulation with dynamic clinging action. Watch the stains disappear!
The Works Toilet Bowl Cleaner is quick, easy to use, and priced at a value to save you time and money!
*Directions:
IT IS A VIOLATION OF FEDERAL LAW TO USE THIS PRODUCT IN A MANNER INCONSISTENT WITH ITS LABELING.
Raise toilet seat.
Squeeze bottle directing liquid under the rim and onto sides of the bowl.
Close cap securely after each use.
Brush bowl then flush.
Clean any spills immediately.
Do not spill or place on countertop, carpet, flooring, bathtub, sink, enamel, or chrome surfaces.
Safe on both white and colored bowls.
---
We Also Recommend