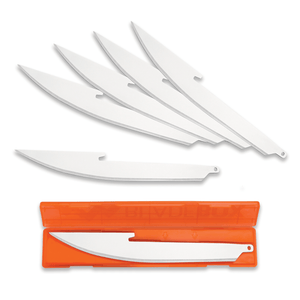 Outdoor Edge 5.0" Razorsafe™ System Boning/Fillet Replacement Blades
Set of six 5.0" Boning/Fillet replacement blades perfect quartering and boning game in the field dressing and processing steaks and roast back at home.

JAPANESE 420J2 STAINLESS STEEL – Individually vacuum sealed blades are precisely heat-treated and hand finished shaving-sharp to ensure excellent edge retention and performance.
RAZOR SHARP AND VERSATILE – Flexible 5.0" blade is perfect for deboning wild game in the field and create hand cut steaks and roasts at your home both ensuring the quality of the meat for your family and saving money.
BLADE STORAGE BOX – Comes with a polymer blade storage box to safely transport used blades once the job is complete. The Blade Box stores up to three blades total; one 3.5" Drop-Point blade, one 5.0" Boning/Fillet blade and one Gutting blade (Drop-Point and gutting blades are not included).
INDIVIDUALLY VACUUM SEALED – Each blade comes sealed in a plastic pouch with PVC blade cover to protect the blade from the elements and to improve safety when transporting and changing blades.
REPLACEMENT BLADES ONLY – Pack of 6 blades are compatible with the 3.5-inch RazorLite EDC, RazorLite, RazorPro, 3.5-inch Onyx EDC, RazorBone, RazorMax; Note that only the RazorBone and RazorFin will close with the 5.0-inch blade; On other models remove the 5.0-inch blade and store in the blade box in between use.

PLEASE NOTE: These 5.0" blades fit all 3.5" FOLDING AND FIXED BLADE RazorSafe™ System knives. When used in a FOLDER the 5.0" blade cannot be closed and should be removed immediately after use and stored safely in the enclosed BLADE BOX.
---
We Also Recommend