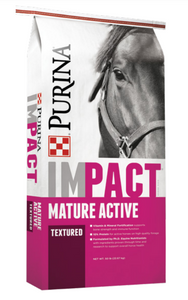 Purina® IMPACT® Mature Active Horse Feed
FOR MATURE HORSES AT MAINTENANCE THROUGH MODERATE ACTIVITY
10% PROTEIN For active horses on high quality forage.
ADDED BEET PULP Provides high quality digestible fiber.
ADDED FAT From vegetable oils for sustainable energy and a shiny hair coat.
VITAMIN & MINERAL FORTIFICATION Supports bone strength and immune function.
BALANCED NUTRITION Meets your horse's nutrient requirements when fed as directed.
QUALITY INGREDIENTS Highly digestible and naturally palatable.
FORMULATED BY PH.D. EQUINE NUTRITIONISTS Ingredients proven through time and research to support overall horse health.
ACTIVE HORSES NEED MORE THAN FORAGE
Support your horse's active lifestyle with IMPACT® Mature Active Horse Feed. Formulated with premium nutrition which provides the necessary calories and nutrients for mature horses at maintenance through moderate activity. See the difference IMPACT® feed can make for your horses.
GUARANTEED ANALYSIS
Crude Protein (min)................................ 10.00%
Crude Fat (min)...................................... 10.00%
Crude Fiber (max).................................. 12.50%
Acid Detergent Fiber ............................ 15.00% (ADF) (max)
Neutral Detergent Fiber ........................ 29.00%
(NDF) (max) Calcium (Ca) (min) ................................... 0.70%
Calcium (Ca) (max) .................................. 1.20%
Phosphorus (P) (min) ............................... 0.50%
Copper (Cu) (min) ..............................55.00 ppm
Selenium (Se) (min)..............................0.60 ppm
Zinc (Zn) (min)..................................220.00 ppm
Vitamin A (min).................................. 3,000 IU/lb
---
We Also Recommend